1954
Tayto was established by Joe 'Spud' Murphy in 1954 at a time when most crisps were imported from the UK and were unflavoured bar the small blue bag of salt included in each bag to enhance the flavour. Spotting a niche in the Irish market, Joe Murphy set up his own crisp factory. Credited with inventing the first ever Cheese & Onion flavoured crisps, the brand name Tayto has now become synonymous with crisps across Ireland. Production of the Cheese & Onion flavour crisps started in Dublin at O'Rahilly Parade, off Moore Street, where after being packed by hand in waxed greaseproof paper, the crisps were delivered to the retailer in an airtight tin, to help maintain their freshness.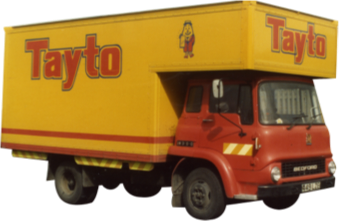 1960
The 1960's saw large scale growth for Tayto and Joe Murphy purchased a new building at Tivoli Avenue in Harold's Cross. As regional sales also increased, Tayto grew their national footprint with depots and distribution centres around the country including Limerick and Cork. The company agreed contracts with farmers in Co. Meath and in 1968, Tayto opened its first potato storage facility in Stamullen, Co Meath which had the capacity to store 8,000 tonnes of potatoes.
1970-1990
During the seventies, Tayto moved to the well-known much larger production site in Coolock as sales continued to grow. In the nineties, Tayto invested in the modernisation and refurbishment of the Coolock plant along with a new 30,000 sq. ft distribution facility in Ballymount, Dublin. where new machines and packing capabilities allowed Tayto to keep up with demand. Over the next two decades, Tayto's popularity grew cementing itself as a truly iconic Irish brand.
2000's
Largo Foods, who were outsourced to make Tayto crisps during the nineties to keep up with the demand, acquired the Tayto brand. Full production of the Tayto brand moved to our current production facility which is in Ashbourne, Co.Meath.
2007-2009
2007 was a big year for Mr.Tayto. with the nation falling in love with his humorous, fun-loving character as he became a General Election candidate. Mr Tayto continued to give his strong Irish fanbase so many laughs by "looking for love" in 2008 and in 2009 he launched his autobiography, titled "The Man Inside The Jacket", which went on to become a best seller and claim the coveted Christmas No.1 spot.
2010
Tayto Park first opened its gates in 2010 and is Ireland's only theme park.

Tayto Park has attractions for all ages and is the proud home of Ireland's only wooden roller coaster, an exotic zoo and much more.
2022
Today, Tayto is still Ireland's favourite crisps and snacks brand, and it's not just iconic in Ireland but also provides a much-needed taste of home to many Irish abroad. It's often voted the most-missed Irish product by Irish ex-pats living all over the world. Whether it's the original Tayto crisp, a family favourite like Snax or Mighty Munch, some popcorn or a guilt free treat of Lentil Chips, Mr Tayto has something for everyone.
In January 2022, Tayto Lentil Chips were launched. They have 40% less fat*, 100% flavour, and of course, have Mr.Tayto's seal of approval.

*40% less fat than 100g of Tayto Cheese & Onion Flavour Potato Crisps.